View this email in your browser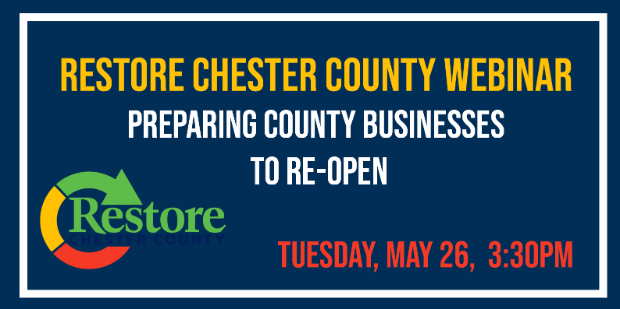 'Restore Chester County' Webinar
Preparing County Businesses to Re-Open Tuesday, May 26th at 3:30 PM Webinar Link: https://chesco.org/4496/Johns-Hopkins The Chester County COVID-19 Business Task Force is hosting the first in a series of webinars for county businesses and organizations looking to reopen, revise or even expand operations due to the impact of the coronavirus. The first webinar, Led by Lucia Mullen, MPH, an analyst at the Johns Hopkins Center for Health Security, focuses on preparing businesses and organizations of all sizes and types to determine their risk of transmission of COVID-19. The webinar will also provide a toolkit that enables businesses to identify their areas of risk, and suggestions to reduce it.